All-On-4/Teeth in a Day in Silver City
Sturdy Teeth Replacement
At Sherman Dental, we understand how important a full set of teeth is for your health and your daily activities. We can help those who have lost most or all of their teeth with All-on-4 dental restoration.
This is a permanent replacement that only requires one appointment for the dental surgery, making it practical to schedule.
To determine whether you are a good candidate for this implant surgery, our team performs a thorough review of your medical history and a detailed examination of your:
Jawbone

Gums

And any remaining teeth
We are available Monday to Thursday from 8 a.m. to 5 p.m., and our staff members speak English and Spanish.
What Are All-on-4 Implants?
All-on-4 teeth consist of full replacements for both your entire upper or lower set of teeth, which are anchored to four dental implants. They are a permanent and natural-looking alternative to traditional dentures.
Implants usually replace individual teeth, while this advanced procedure simplifies the process. We surgically place four titanium implants into your jawbone, and we attach your permanent teeth to them.
We perform the procedure in a single visit, which usually takes a few hours. These implant-supported teeth stay in your mouth at all times, and you can use your new teeth right away.
---
Ready for a confident smile? Contact us to schedule your All-on-4 dental restoration appointment today!
---
What Are the Benefits of All-on-4 Teeth?
Convenience and permanence are the two main benefits of All-on-4 teeth. These implants are very secure and won't shift or loosen in your mouth, as standard dentures can.
The procedure costs less than if you replaced your teeth individually. If we determine this solution is right for you, you usually don't need any bone grafting, which also simplifies the process.
Example 1: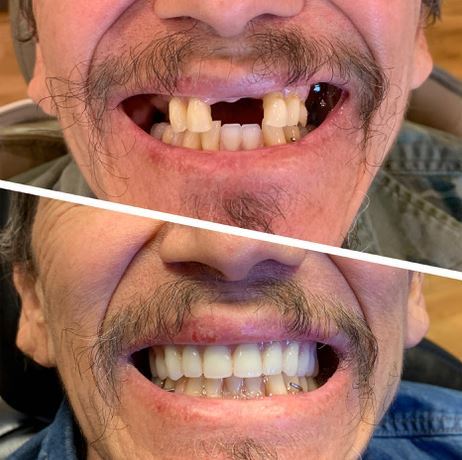 Example 2: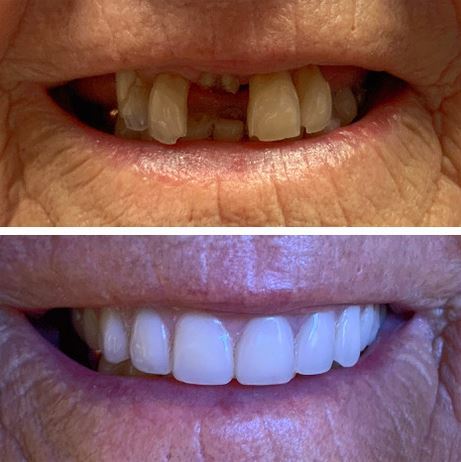 Example 3: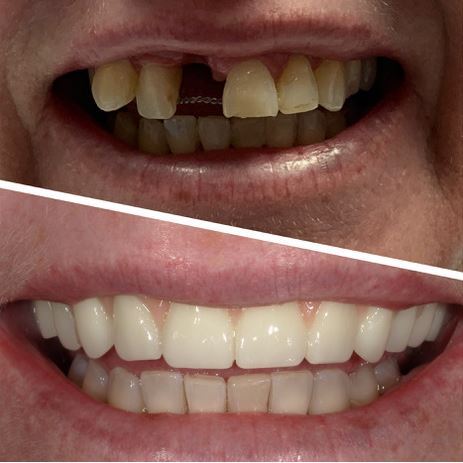 Sherman Dental can provide you with a new set of permanent teeth with All-on-4 implants. Contact our office at

(575) 888-8955

to learn more.
"Dr. Sherman is a solid human. And a Damn good dentist, with an always solid team around him. Is clear about any issues I've had and has easily explained and shown me what the issues are. Not pushy at all and has respected my input. He's a no pain dentist as well. If he didn't keep telling me to open my mouth wider, I'd easily fall asleep while he's ... "

- Douglas H.

"Simply outstanding service and staff. I had a painful dental emergency over the weekend while passing through the area. Left message on a Saturday and Monday morning I was in the chair and seeing Dr. Sherman. The staff personable, compassionate to my needs and true professionals, they were able to squeeze me into the busy schedule. I even got some solid ... "

- Stephen G.

"They got me in very quickly for a crown that I had done at another place yesterday that fell off last night. Everyone was friendly, their covid precautions were both excellent and exactly what they said they would be, which I very much appreciate. He was gentle and calm, professional and explained everything very well. Everyone there was friendly, calm, ... "

- Brenna T.

"This Dental office was the 1st to offer assistance to work with the VA on the billing side of the house. All veterans know it's a pain and a hassle. This is where all veterans in our area need to go as a 1st option. This is aside from the professional service and hospitality ////Retired Military//// "

- Dennis C.

"Reviewing my first visit with Dr. Sherman. I got an emergency appt. for a toothache and was examined and told I needed a crown. They gave me another appointment for 9 am the next morning and by 11:30 I was on my way with a new crown and no toothache. I was very pleased with Dr. Sherman and also his staff and I expect to be a regular patient there now. "

- Robert L.

"Best dental experience to date! I am new to the area and I broke a tooth. They got me in promptly and I had a permanent crown placed in just one visit! Everyone was very friendly and professional. It was a VERY pleasant experience! "

- Trista H.
Contact Our Office
Look Great & Feel Confident
Whether you have questions or you're ready to make an appointment, our team is ready to help.